3 healthy and tasty recipes with green beans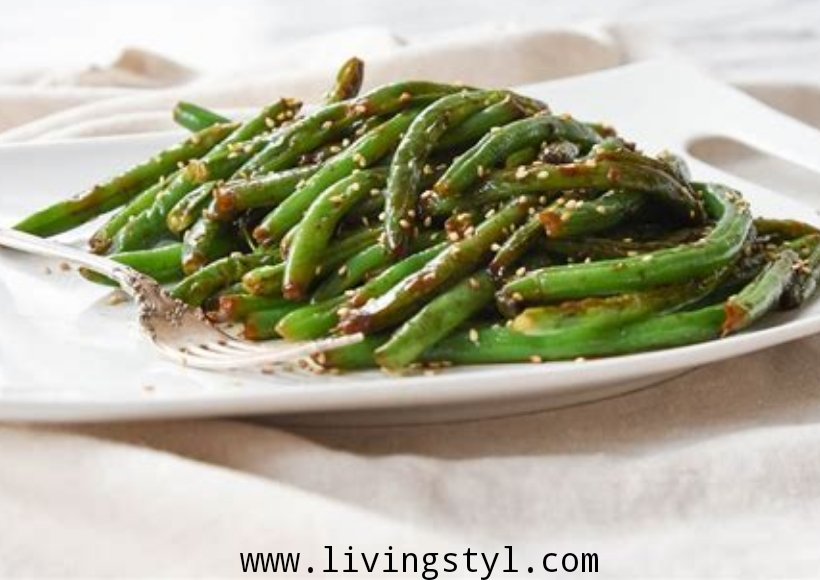 Who still thinks green beans are boring vegetables? Not only does it take care of your health, but delicious recipes can be prepared with it.
The green bean is a legume that is harvested tender, before its seed has developed, which makes it possible to eat it fresh and in its entirety, like a vegetable, without the need to discard the pod. 
It is especially rich in fiber, antioxidants such as carotenoids, minerals like potassium and, if not cooked in excess in vitamin C. It also has folic acid, which is not only important for pregnant women; also for those people with high levels of sugar, cholesterol and triglycerides, as well as for hypertensive people and those with heart disease.
Would you like to add them to your daily menu? These are some easy and healthy recipes to make it.
Green bean with pine nuts and caramelized onion
The pinions are delicious and dried Mediterranean fruit extremely rich in iron (5.5 mg in 100 g). In addition, two tablespoons pine nuts (about 30 grams) cover more than one third of the daily requirement of vitamins B1 and E.
This set of nutrients makes pine nuts a very suitable food to prevent iron deficiency anemia and to strengthen the body, which increases the feeling of available energy.
These is a simple and healthy recipe to enjoy green beans, with the complement of pine nuts.
Ingredients for 4 people
500 g round pod green beans (Bobby bean type)
3 onions
100 g pine nuts
3 teaspoons whole sugar
1 tablespoon apple cider vinegar
Extra virgin olive oil
a pinch of salt
Preparation (6 minutes + 40 minutes of cooking)
Wash the green beans well.
Peel and cut the onions into half-moons.
In a thick casserole, slowly confit the onions. To do this, heat a splash of olive oil and cook them over medium heat for five minutes, stirring with a wooden spoon.
Add the whole sugar and cook for about 20 more minutes without stopping stirring. At the end add the tablespoon of apple cider vinegar and let it evaporate for another 5 minutes, being careful not to catch the onion. Once done, reserve it.
The green beans boil them for about 10 minutes, put them under cold water to cut the cooking and drain them well.
In a frying pan or in a wok heat a drizzle of olive oil and add the green beans. Add a little salt, to taste, and sauté everything for about two minutes.
Add the pine nuts and stir the whole for another minute until golden brown.
Finally, add the caramelized onion and serve.
Filo bean cake, vegan cottage cheese and Salicornia
In this recipe the green bean is combined with a similar-looking algae, which brings a surprise of flavors. It is accompanied by a vegan cottage cheese made with chickpea flour and coconut cream, as well as a few balls of soy mozzarella.
Ingredients for 4 people
4 slices of filo dough (without egg)
300g flat beans, julienned
200 g Salicornia or sea asparagus, chopped
1 small zucchini, cut into very thin strips
1 medium leek, chopped
200 g of coconut cream
1 tablespoon chickpea flour
2 tablespoons soy milk
Virgin olive oil
Some dill leaves
a pinch of salt
For the vegan mozzarella
120 ml of soy milk
1 teaspoon of carrageenan powder
2 tablespoons potato starch
1 teaspoon apple cider vinegar
Sea salt
1 drizzle of virgin olive oil
Preparation (12 minutes + 35 cooking time)
Overlap the filo blades in a mold painted in oil and bake for 10 minutes at 160ºC.
To prepare the vegan mozzarella, mix all the ingredients well and cook them until it thickens. Then let the cheese cool and form balls.
In a wok add a little olive oil and sauté the Salicornia and green beans.
A few minutes later, add the leek and zucchini as well.
Slide the chickpea flour into the soy milk until it is smooth and you will get some vegan "eggs". When the vegetables have cooled, add this mixture.
Add the coconut cream, salt and pepper and pour this preparation over the filo dough.
To finish, add the chives, spread the vegan mozzarella on top and  bake the whole until it takes a consistency and the pasta is crispy
Couscous salad with steamed beans
The couscous comprehensive healthy gives you energy and fills you. As a base for a salad it is ideal and its mild flavor enhances that of the foods that accompany it.
Some raw or steamed vegetables are great paired with couscous.
Ingredients for 4 people
250 g of couscous
250 ml of vegetable broth or water
500 g of tender round type beans
500 g tomato
1 yellow bell pepper
Virgin olive oil
Fresh coriander
Salt
Preparation (10 minutes + 30 minutes of cooking)
Clean the green beans and steam them in about 2 inches of salted water for 20 minutes over medium heat.
Once done, let them cool and set aside.
In a bowl, impregnate the couscous with a little olive oil and pour boiling water with salt.
Let the couscous rest in the water for about 10 minutes
Meanwhile, clean and cut the pepper and tomato into slices.
Chop the cilantro
Spread the couscous on the plates, add the vegetables and drizzle with a little olive oil.
Garnish with fresh cilantro and serve.